KNOLVALTM
KnolvalTM system integrates software in Cloud and smart valves, to manage HVAC systems in warehouses and factories, cuts bills and CO2 emissions, improves people's well-being and comfort. KnolvalTM is the result of the cooperative intelligence of Enersem, a Politecnico di Milano University spin-off and Cimberio S.p.A., a world leader in the production of brass valves and components.
Thanks to the presence of the Cloud and of a Gateway, KnolvalTM system transforms the valves from simple joints in the water distribution system into active, intelligent nodes that accurately control the flow through the system's terminals (radiators, fan coils, unit heaters, etc.) to manage the proper amount of thermal energy in each individual room. KnolvalTM interacts with other components of the system, such as environmental sensors, pumps, chiller, heat pumps and boilers, in order to optimize thermal and electrical consumption of the system.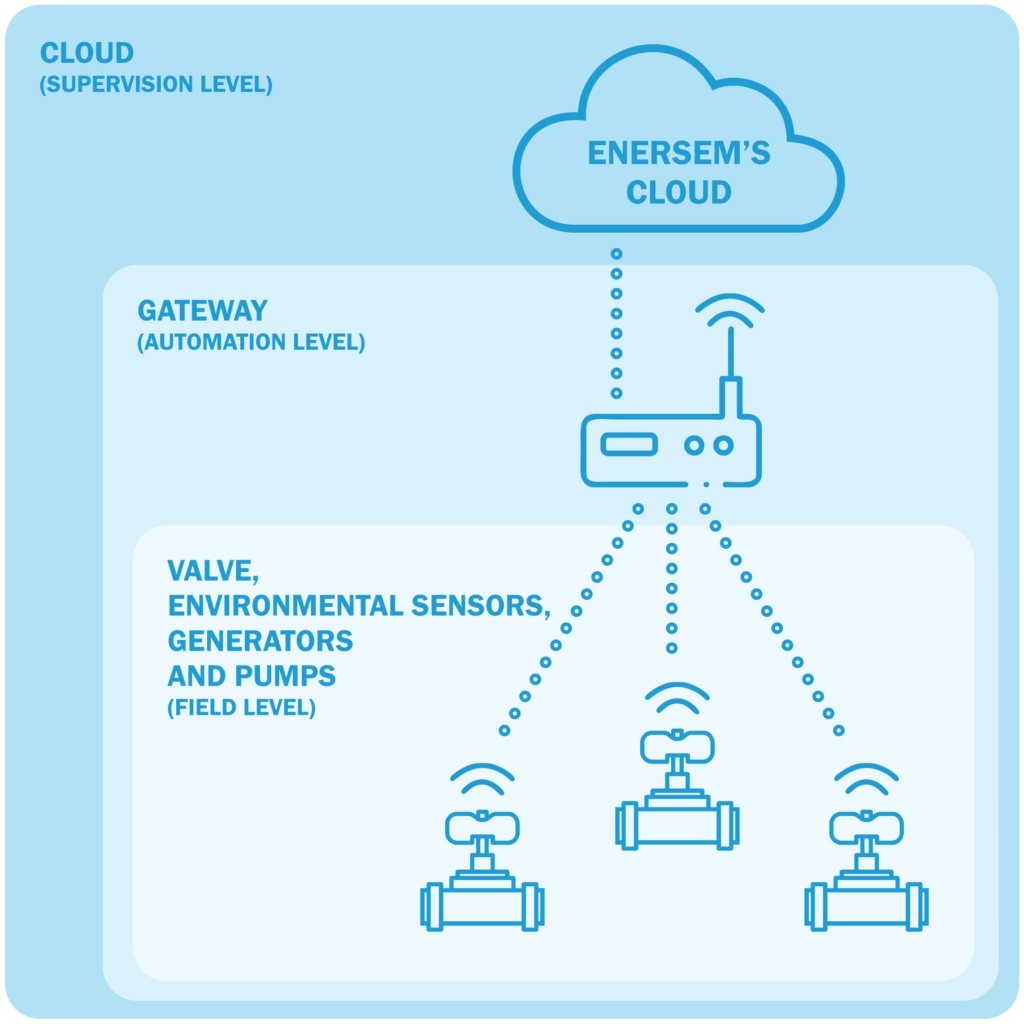 Heating, treatment and air conditioning in production environments mean high costs, in economic and environmental terms:
Up to 1,500 m3 of methane and 2,000 kilos CO2 for every 1,000 m3 of air-conditioned space.
DOES YOUR HEATING SYSTEM USE WATER?
It happens in the vast majority of industrial buildings already equipped with heating systems. These systems are often inefficient: in most cases, neither the operating time nor the water temperature are usually adjusted to real needs. KnolvalTM can therefore significantly improve the energy performance of the unit heaters and the comfort of the rooms.
DO YOU USE COMPRESSED AIR?
KnolvalTM has a dedicated solution to optimize heat recovery from compressors. In fact, many systems installed recover much less than expected / possible. It also happened to our partner Cimberio: thanks to KnolvalTM company's plant in Berzonno (NO) increased energy recovery by 75%.
With KnolvalTM you buy
FIELD HARDWARE
Electronic balancing valve and actuator, flow meter, pressure and temperature sensors, thermostat, air quality sensors.
GATEWAY
A mini-pc for cloud connection, data centralization, and service continuity.
CLIMA START
The Start module's cloud-based software allows configuration and management of the system and guarantees: automatic balancing and optimization of the system; reduction of the "low delta T" syndrome; maintenance of the indoor climate with the lowest possible energy consumption (personalized calendar, differentiated set points); notification of malfunctions of all components, such as pumps and boilers.
You can also purchase optional software modules, to meet even more specific needs:
COMFORT PLUS
It is an optional package for the regulation of terminals with predictive Artificial Intelligence algorithms, to achieve and maintain comfort quickly and efficiently, even in conditions of high variability of heating or cooling requirements, avoiding unnecessary consumption.
ENERGY PLUS
It is an optional package for the optimal regulation of boilers, heat pumps, chillers and circulators; with predictive Artificial Intelligence algorithms (on/off, "dynamic climate") to save energy, ensuring comfort. Includes ad hoc algorithms to optimize heat recovery from compressed air.
BUSINESS INTELLIGENCE
It is an optional package for monitoring and data analysis, with dashboards with graphs and indicators, at the level of individual valve, room, or entire system. It analyzes consumption, savings, comfort and air quality in the monitored rooms. By setting the frequency and type of data of interest, it can create reports to be shared within the company and with customers.
WANT TO LEARN MORE?
CCONTACT US TO DISCUSS YOUR NEEDS.